How Brands Can Run Brilliant Instagram Filter Campaigns In 2020
Updated: Jun 25
tl;dr
The recent comments from Apple CEO Tim Cook that 'AR will change everything' has brands immediately thinking about how they can create their own Augmented Reality campaign. Instagram Filters and other AR social lenses are predicted to generate $13bn (£10bn) in ad revenue for brands by 2022. You can increase your reach and use of your Instagram AR Filter with new AR Facebook Ads, influencer outreach and user competitions. And use Facebook Pixels to increase and track conversions on your website due to your AR Filter.
Why create an Instagram Filter?
The comment from Apple CEO Tim Cook that 'AR will change everything', has brands immediately thinking about how they can create their own Augmented Reality campaign. And now they can - easily, fast and cost-effecively with Instagram Filters.
Since that comment Facebook has opened up their Spark AR creator programme. Before that, to create an AR Filter for Instagram, you had to be a registered AR Filter creator. Now anyone can create and publish their own AR Filter on Instagram or Facebook.
Spark AR works with Facebook and Instagram Filters
The numbers for Instagram are immnense. Along with there being more than 1bn people on the platform, these users are very active everyday and month and 80% of peopple on Instagram saying they follow a brand they love on the platform. In terms of advertising, AR Filters are predicted to generate £10bn ($13bn) in ad revenue for brands by 2022 too.
Customisable Instagram Filters for any brand
As the technology improves there are ever-increasing different types of AR Filters brands can create. But as they stand they usually fall into two camps. Real-world AR effects, which uses the back-facing camera and can bring objects to life in the real world. And Face Filters, which use the front-facing camera and puts the user in the effect.
Brands and celebrities like Addidas and Kylie Jenner are already creating their own Instagram Filters
Instagram Filter by Gorillaz [Parlophone Records]
How can your followers find Instagram Filters?
Once your effect has been created and published you'll obviously want people to use it. If your brand has created an Instagram Filter it will be visible on your Instagram profile, where the smiley face is [see left image below]. And anyone who comes to your profile can see a 15-second demo video of your effect being used. And a TRY IT button on that video so they can also use it [right image].
Tap the smiley face icon on the Instagram profile to view and try Filters


The Instagram Effects Gallery
You can also find Instagram Filters (including yours) from anyone's own Instagram newsfeed.
Swipe right from your newsfeed

You'll then see a row of icons of recently used Instagram Filters and popular effects

Swipe the icons left until you come to the magnifying glass

Tap this magnifying glass to open the Instagram Effects Gallery
There are literally thousands of different Filters in the Instagram Effect Gallery. Warning: you can get lost down this rabbit hole for hours.
And the Effect Gallery can also be found from any Instagram profile that has an Instagram Filter.
Nike's Instagram Filter and the Instagram Filter Effect Gallery
Instagram Stories are perfect for sharing your Filters with your followers
Your Instagram Stories are where AR Filters work really well. This is where you can create a story announcing the launch of your AR Filter. You can do this by posting the demo video of the effect, deatils about your effect and instructions on how people can use and interact with it.
Instagram Stories
'Swipe Up To Try' From Instagram Stories
The most seamless integration with Instagram Stories is that you can add a link to yourr Filter, to each story. With a Call To Action for followers to Swipe Up to try the effect. It's brilliantly simple and a very effective way for people who follow you, and see your story can try your effect. But, how do you get more people to try your effect? Not just your own followers.
How to add your Filter to one of your Instagram Stories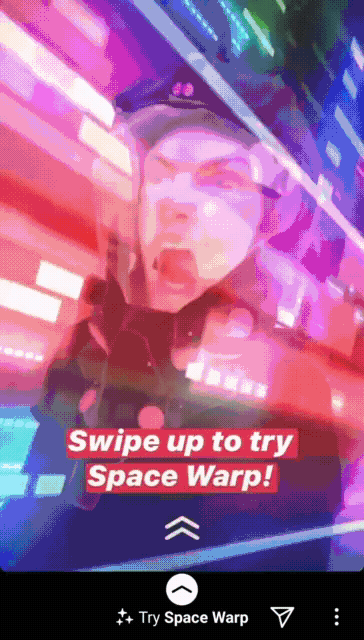 How your followers can try your Instagram Filter from Instagram Stories
[Space Warp by Eddy Adams]


Using Owned, Earned and Paid channels to distribute your Filter
Post & hope has long been dead as a tactic to increase your reach. To really expand your audience you need an outreach strategy that covers three primary channels Owned, Earned and Paid.
OWNED: the channels you have control over (social profiles, website, Mailchimp etc)

EARNED: the channels you'll need to build relationships to reach a bigger audience (influencers, press, partnerships)

PAID: the advertising channels you'll use to reach your target audience (Facebook & Instagram ads etc)
Why influencer competitions work for Instagram Filters


People are more likely to buy a brand because of someone they know and trust has endorsed it for them. This is why it's a no-brainer to consider having an influencer strategy as part of your Filter campaign. It's trickle-down economics, you reach your new target audience when the influencer uses, shares, endorses and encourages their followers to use your effect on their channels. And in turn, those followers, use it and encourage their followers to use it. And another great way to increase the use of your Filter is to run an Instagram Filter competition. For example: Share a video of you using our Instagram Filter and we'll give a prize to the 10 best.
Gucci's Eyes-o-Matic Instagram Filter
Using Facebook's new AR FILTER Ads
Advertising on Facebook and Instagram can be a cost-effect way of reaching the exact audience you want to reach (Approximately 20-50p per link click and £10 to reach 1000 people). And this effectiveness is down to Facebook's Tracking Pixel. A small piece of code that's installed on a website. Almost every site in the world has one installed. And when you visit that site and consent to cookies, you're allowing that site to tell Facebook that you've visited. It then shares that info with Facebook advertisers. Read more about the Off-Facebook tool.
Facebook now lets you create ads for you AR Filter
How to upload your Filter with Facebook Ads Manager
How Facebook's AR Filter ads look in newsfeeds
Using a QR code for your AR Filter


When your AR Filter has been published, you're given a URL which you can turn into a QR code. You can then share this QR code online, on physical materials like flyers and at events. And QR codes now work straight from iPhone and Android cameras - no app need. You just open your camera, point your phone at the QR code and a link will appear.
Example of an AR Filter QR code.
Measuring the impact of your Instagram Filter campaign


Instagram and Facebook Filters are made in their AR studio, Spark AR. When you create and publish an effect you're given an online dashboard where that effect lives. The dashboard shows the performance details of your effect, which are currently updated once a day. These include impressions (amount of times your Filter has been seen in Instagram), Captures (the number of times you effect ha been used) and Shares.
Filter analytics in the Spark AR dashboard
Making the most of the Facebook Pixel to track and optimise your Instagram Filter campaign
If you have ads on Facebook and Instagram's set up and for instance, you have a Filter which is try-before you buy (i.e. See what our new sunglasses look like on you). You can use Google Analytics and deploy Facebook PIxel to see how much it cost to drive people to your site and how many of those people bought your product. All down to your Instagram Filter.
Wrapping up


To wrap up. Making and publishing your AR Filter is half of the campaign process. Just as important is the distribution strategy of your effect, and depending on your budget, audience and goals, there are a number of simple ways you can do this to get the most out of your Instagram Filter.